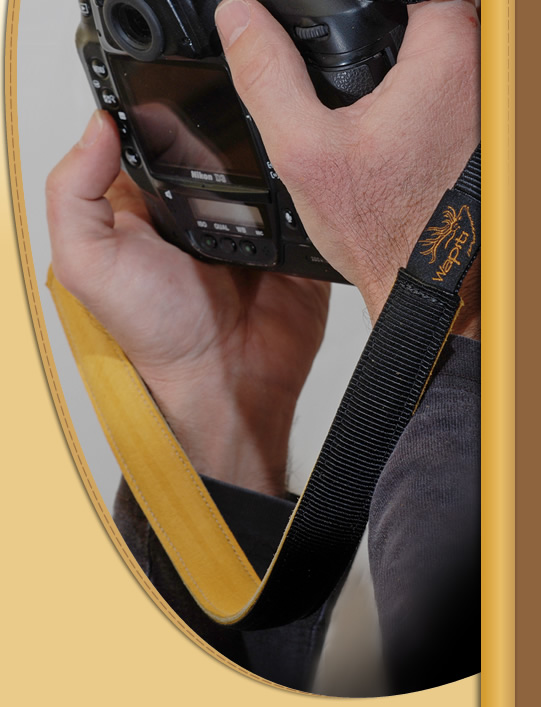 "I crafted the Wapiti Strap from strong nylon webbing with a shoulder pad made of Montana Elk leather. The wapiti hide allows you to hang a heavy camera off of your neck for extended periods of time with comfort. The leather soaks up sweat during those hot summer ball games and won't allow the camera to slide off the shoulder of a slippery winter coat."
David Grubbs, Photojournalist
Like a comfortable pair of gloves, the Wapiti Strap gets better with age. Congratulations! You've finally found the strap your job demands: The Wapiti Strap.

Made of strong nylon webbing.
Shoulder pad made of genuine Montana elk hide (international orders made of cow hide).
The Spike strap is a perfect fit for the the micro 4/3rds cameras. This strap is a comfortable 3/4 of an inch at its widest point. This strap and the Bugle strap are adjustable to 50 inches but can be ordered at longer lengths. If you need a different length just send me an email or call anytime.
The C1 strap is also non-adjustable and has a strap type camera connection.
The C1 straps must be ordered by specific lengths. These straps are by far the best choice. There is no fussing with extra straps to tuck in or cut off.
C1 straps are 1 inch wide at the shoulder pad and 1/2 inch wide at the camera connection. The Bugle strap is 1 inch wide at the shoulder pad and 3/8 inch at the camera connetion. Both the Spike strap and Rut strap are 3/4 inch wide at the pad and 3/8 at the camera connection.
If you like the length of your old strap just measure it from connection to connection and order that length.
General sizes are 32, 36, and 40 inch but any length can be custom made
with no extra charge or shipping time.
All straps will be shipped the next business day, including custom lengths.